The sliding doors moment for Ken Hinkley came in late 2017 after Port Adelaide drew their sudden-death final against West Coast but lost the game in extra time, and the club's shattered president David Koch issued a pointed public broadside which reflected poorly on the coach and his team.
By Koch's standards this was nothing new but for Hinkley and his family, still raw from the dramatic season's exit and the compounding wrath from the Port supporter base, it felt like the final straw.
The ultimate success has eluded Port Adelaide under Ken Hinkley.Credit:Getty Images
The Suns simultaneously appeared well down the path of replacing the sacked Rodney Eade with Stuart Dew but that club's boss Mark Evans saw an opportunity and made the call to Gold Coast's foundation senior assistant, sensing that life in Adelaide had become almost untenable for the Hinkleys. Hinkley had lost his best friend Peter Hubbard over the pre-season, a man he referred to as his "second wife" and whose views on Koch and were occasionally unprintable.
It was later suggested that Hinkley and his manager Peter Blucher had used the Gold Coast offer as payback leverage with Port, but there is no doubt that Gold Coast came close to securing Hinkley that year despite him being contracted and despite Port finishing one game outside the top four with 14 wins that year.
What followed was a robust meeting called at Hinkley's house involving Koch and his then CEO Keith Thomas in which Hinkley's wife Donna delivered a full and frank assessment of just how unbearable living in a football-obsessed two-team town could become for a senior AFL coach and his family, particularly for so-called "outsiders".
The result saw the already contracted Hinkley sign a three-year extension – with performance clauses – and the tantalising prospect of a fresh start for both him and Gold Coast taken off the table, although a wistfulness for grasses greener for both parties still lingers.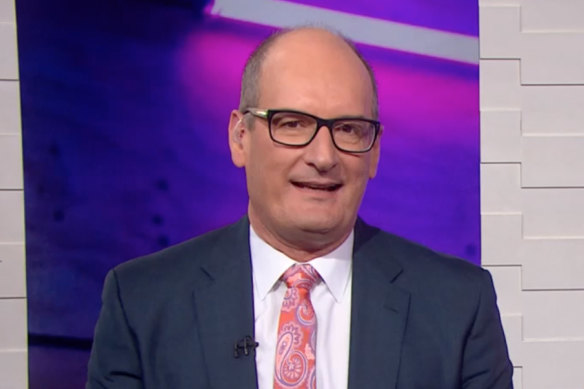 Port Adelaide president David Koch.
The mixed fortunes that have dogged Hinkley since – the failed quick fix of 2018 followed by the successful influx of young talent in 2019 and a rebuilt football program overseen by Hinkley and his football lieutenant Chris Davies – saw Port come so close in 2020 and finish top four again last year, only to be humiliated by the Western Bulldogs in yet another losing preliminary final.
To be brutal, some big calls have failed, notably the faith he showed in Charlie Dixon to present consistently as a dominant forward in big games.
Surely, now would have been the ideal occasion for the two parties to shake hands and accept that one decade had seen Hinkley lift Port Adelaide out of the mire back to respectability despite having failed to help deliver the ultimate.
Particularly when Koch chose this week to again publicly threaten Hinkley's job and his off-field football team, in a clumsy attempt to appease his supporter base which appears to have increasingly turned on Hinkley from the start of the season.
No one is suggesting Koch has no right to criticise his team's performance. Port might have lost seven games by less than two goals this season, but the side has under-delivered in what could prove the team's worst finish under Hinkley. But to suggest Hinkley and his team must turn things around in a fortnight or else came over as a hollow threat.
Just as the club backflipped after one season on Hinkley's dual captaincy strategy due to supporter backlash, the coach has been undermined again to satisfy one of the more demanding fan bases in football. This was not a show of strength by Koch and, in fact, by the end of the week his resolve looked positively flimsy.
Hinkley took a pay cut when his contract was extended by two years at the start of 2021 and as a result refused to entertain the prospect of any performance clauses. The club cannot afford to pay him out, and he has a watertight deal until the end of next season.
Koch backtracked on Thursday but still pointed out that Hinkley had failed to coach Port to a grand final. Back in early 2016 when Richmond backed Damien Hardwick with a contract extension, president Peggy O'Neal's blunt assessment was that the club looked around and saw no one better than the incumbent, and when the Tigers' season capitulated her firm decision to back Hardwick has become a template for situations like Port's current predicament.
What is surprising is that no club has put out the feelers for Hinkley in recent days despite his winning record. North Melbourne have thrown their entire weight behind Alastair Clarkson and will look no further unless that bid fails, while GWS have stuck to a process in which Clarkson remains their preferred target. The Giants have said they will not approach a contracted coach, but surely Koch's comments on Monday opened the door.
So, barring a late play, Hinkley stays at Port with the most likely movement at Alberton to see assistant coach Brett Montgomery replaced. Football boss Davies has refused to entertain offers, including one from North, and has maintained his faith in Hinkley and their program.
But this is not the ideal starting point upon which to build season 2023. An uneasy president, a coach under pressure to deliver from round one or else suffer the ignominy of the weekly sacking debate, and a playing group and football department that knows it.
In another country, in a different football competition, Ken Hinkley would be seen as a winning coach. In Australia and in the town of Adelaide he is a coach under pressure. Nothing will change in that department unless he can deliver a top-four finish next season.
No disrespect to Dew or the superb Port team which had the misfortune to come up against one-last-shot champion Richmond in the preliminary final of 2020, but perhaps Hinkley should have walked away at the end of 2017 and coached the Suns.
Keep up to date with the best AFL coverage in the country. Sign up for the Real Footy newsletter.
Most Viewed in Sport
From our partners
Source: Read Full Article
The post Why Hinkley should have entertained a move to the Suns first appeared on europesportsnews.com.