Now we've heard of players being warned about going down media street but one much-loved member of a Magpie defender's family has been warned to avoid that path until after the finals.
Spare a thought for Magpie defender Nathan Murphy's grandmother, 'Von' Murphy, watching Carlton's agonising one-point loss to Collingwood last Sunday as she is not only a life-long supporter of her talented grandson, but a massive Blues fan too.
It had been a big week as she contemplated watching Murphy attempt to knock her beloved team out of finals, meaning in one sense she couldn't lose, and in another, she couldn't win.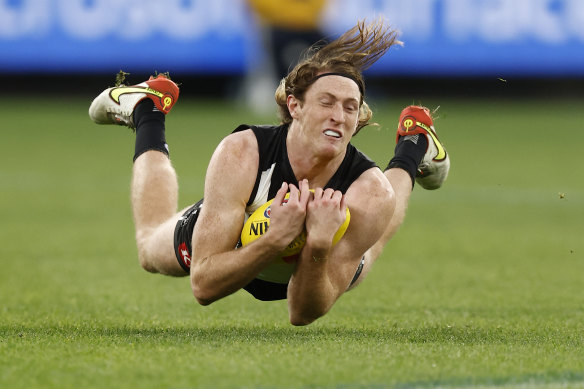 Collingwood's Nathan Murphy had a laugh about his grandmother's media interviewCredit:Getty Images
She spent the game barracking for the Blues except when the ball went into the forward line when she hoped Murphy would do well.
That is what you would call a hard watch.
After the devastating loss, Von was gracious enough in defeat to congratulate Nathan, who cheekily suggested to her via text message that it was about time she became a Magpies fan, an offer she firmly declined.
How do we know this? Well, because Von relayed the story on 3AW's Neil Mitchell program during talkback on the Monday after the game when she said Murphy "did OK, took a couple of good marks".
When asked on Monday about his grandmother's media appearance as he prepared for the qualifying final at the AIA Centre, a huge grin spread across Murphy's face.
He told us that the family had advised Von it was probably not the sort of discipline required among family members heading into the finals series, but Snap Shot could tell by his smile that the 22-year-old just loved his grandmother stepping outside the team rules.
Kangaroos' connections
Todd Viney's appointment as director of football at North Melbourne continues a long line of senior members of the Kangaroos' football department with strong family ties to people at other clubs.
Of course, Viney's son Jack is a premiership player at Melbourne, a member of their much-vaunted midfield and someone who is sure to be a thorn in the side of the Kangaroos in upcoming years when they play Melbourne.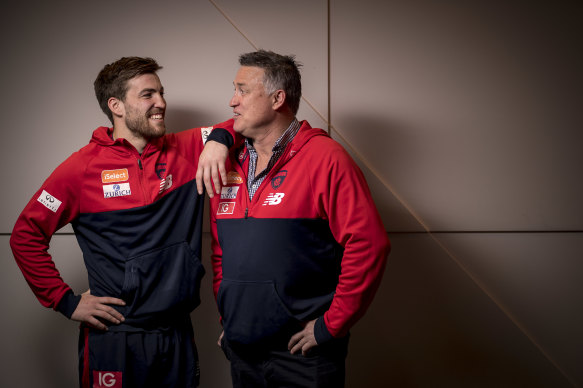 Jack Viney with his father Todd when both were involved at Melbourne.Credit:Eddie Jim
Remaining on the Kangaroos' coaching staff is John Blakey, the father of Sydney Swans defender Nick Blakey.
The previous coach, David Noble, coached against his son John in his last game as senior coach while his predecessor Rhyce Shaw coached against his brother Heath in 2020 in just his second game as coach. Their president at the time, Ben Buckley, also had his son Jack Buckley emerging in defence for the Giants.
That followed 10 seasons of Brad Scott coaching against his brother Chris every time the Kangaroos played the Cats, with Geelong leading that match-up 8-4.
And even football stalwart Geoff Walsh, who helped the Kangas with a review of the football department this year, was CEO at the club when his son Tim was on the Bulldogs' list in the early 2000s.
No defence could beat Rioli
There is nothing particularly amusing about the Federal Court hearing into the $4.7 billion Santos gas project in the north of Australia that is being challenged by Tiwi Island traditional owners, who argue they weren't properly consulted before the project was approved.
But it's worth noting the case has attracted the attention of football royalty, with Hawthorn champion Cyril Rioli protesting against the drilling on the steps of a Darwin Court last week.
The 33-year-old from the Tiwi Islands who now lives in Darwin was making his feelings clear by holding a sign alongside other members of the community that read: Don't Destroy the Tiwis, Stop Barossa Gas.
Rioli is not the only former AFL player taking an active interest in the case as it is being presided over by Justice Mordecai Bromberg, the former Saint who played 34 games with the club in four years between 1978-1981.
Bromberg's footy career had not gone unnoticed when he appeared in the Tiwis for a beachside hearing last week, with his VFL career carrying more standing in that part of the world (let's face it, in any part of the world that loves their footy) than the fact he was a Federal Court judge.
Nearly seven years have passed since Rioli won the Norm Smith medal in a brilliant performance in the 2015 grand final, but it seems his attention has turned to more important matters.
Most Viewed in Sport
From our partners
Source: Read Full Article
The post Snap Shot: Murphy family split on club allegiances first appeared on europesportsnews.com.