It's 40 years since the Kangaroos, later named "The Invincibles", were selected and went on an undefeated tour of England and France.
Recent Herald stories about the Dragons Team of the Century and even the 1972 Australian Schoolboys' unbeaten tour of England have prompted readers to ask: how would the best players of the 1978-87 era I coached, or coached against, fare in the modern game?
Why not take the best players from the 1982 Kangaroo squad of 28? After all, I coached seven of them, mostly before the tour … and eight if Western Suburbs' Terry Lamb is included. (He was selected but declined because of his coming marriage to Kim).
Given the full-on, intense nature of today's game, with six again calls, seven tackle sets, 40:20s, uncontested scrums and a 10-metre rule, fitness is a major factor.
For this reason, I couldn't select vice captain and Immortal, Wally Lewis at five-eighth. His legendary lack of fitness means he would have been caught out of position at a vulnerable time in the modern game.
While four players are now allowed on the bench with eight interchanges allowed, halves are never replaced for fatigue. Two substitutes are automatic middle forwards, with the others either impact players, or utilities.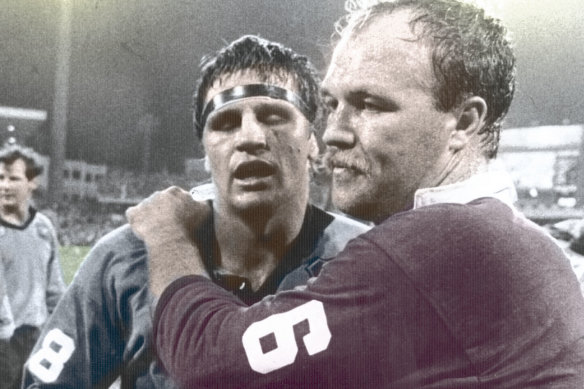 Wally Lewis spent most of his career at five-eighth but wouldn't be suited there in the modern game.
The glaring difference with the 1982 squad and the modern game is the dearth of middle forwards – there were only five genuine "ruckies" in the squad of the 28 who toured.
Today's two State of Origin teams had 10 middle forwards combined, with three each starting and two on the bench. Interchange has rendered obsolete the 80-minute front-rower, with them now playing in 20 minute bursts.
Fullback
Greg Brentnall: Bringing the ball back from kicks is crucial in the modern game and the Canterbury custodian and Dally M winner was a strong carrier of the ball, if not overly fast. A Wagga product, he was offered a contract by the then South Melbourne-based Swans and could kick a ball great distances with radar-like accuracy. Given the structured defences today and the greater emphasis on kicking with a lighter ball, the modern game would suit him better than the 1980s era. He would take responsibility for 40:20s.
Eric Grothe bursts through the Roosters defence in 1985.Credit:Fairfax Media
Wingers
Eric Grothe: A very powerful runner of the ball, it would be folly for the opposition to kick the ball to his side of the field. Close to the line, he was almost unstoppable, even with the corner post then a part of the field of play. He was also very safe under the high ball.
Kerry Boustead: Although slightly built, he was extremely fast, with his rapid acceleration able to capitalise on breaks infield. He also had boundless energy, an asset in today's fast-paced game.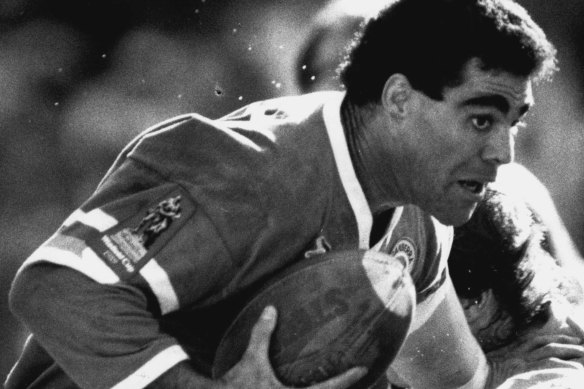 Mal Meninga.Credit:Fairfax Media
Centres
Mal Meninga: The 1982 tour was early in his career but the future Immortal showed strength and speed in the tries he scored. Unlike today's centres who specialise on a left or right side, Mal could play both sides. He was the perfect foil for centre partner Steve Rogers.
Steve Rogers: The tour was late in the career of "Sludge" but he still had explosive speed and agility. He was also a very competent kicker and the best one-on-one tackler of the backs in his era.
Five-eighth
Brett Kenny: He was selected ahead of Wally in the Test matches, partly because of fitness but also because coach Frank Stanton preferred the premiership-winning Parramatta halves duo. Kenny was blessed with natural gifts, instant acceleration and pinpoint long passes. He would not have allowed himself to be locked into one side of the field like today's halves. He would have roved, like Penrith's Jarome Luai.
Halfback
Peter Sterling: A perfect complement to Kenny. He organised the play, was strong defensively and could kick the ball a fair distance. Faster in the mind than he was on his feet, he would herd his men into position at six-agains and repeat sets.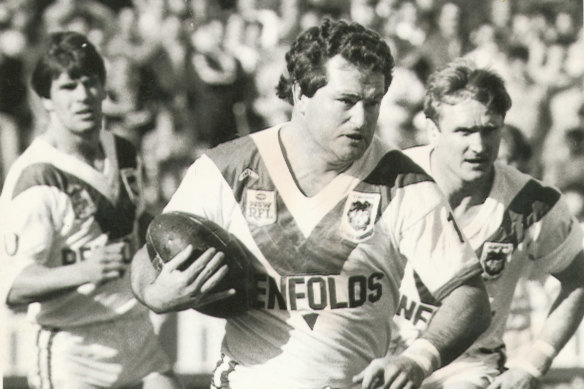 Craig YoungCredit:Fairfax Media
Front row
Craig Young: "Albert" had surprising leg speed, a major asset in today's game with the need to quickly breach the advantage line. He was also a solid defender and would keep the ruck tight.
Les Boyd: He preferred to play wide and won a minor premiership for Wests in the centres. But he was exceptionally agile for such a man with a cement mixer build and would be an intimidatory presence in the ruck. He would be the first player interchanged, providing he hadn't had an earlier stint in the sin bin.
Hooker
Ray Brown. Because scrums are no longer competitive, Kangaroos captain Max Krilich doesn't make the team. Brown was agile and strong and would put pressure from dummy half on the defenders at the ruck.
Second row
Rod Reddy. He would be the ideal edge forward in today's game. A wide-running player, he was sufficiently athletic to slice between opposition centres. He was also adept at unloading the ball and would manage to escape censure, even with today's ten camera coverage.
Gene Miles: He was a centre for almost all his career but would have thrived in today's game as an edge forward with the defence standing back 10 metres. His fellow Kangaroo tourist, Paul McCabe, was a second rower but didn't have Miles attacking flair.
Lock
Wally Lewis: He had all the skills of the modern lock who is a third front-rower with linking ball skills. Craig Young would have been ideal in this position. Wally wouldn't have been keen on the taking the ball up role but he was a ball player, a good reader of the game and a clever kicker. He could certainly tackle but was never a risk of topping the tackle count.
Bench
Ray Price: Although not of the size of today's middles, he had a high work rate and cleaned up around the ruck. He also had football smarts to seize opportunities.
Wayne Pearce: Strengthens the middle with his fitness and effort.
Steve Ella: The Zip Zip man was very quick and could cover most positions in the backs.
John Ribot: A Queensland lock early in his career and a wing internationally, he was big, strong and fast. The perfect player to make an impact from the bench.
Friday: The modern-day players who would have survived and thrived in the 1980s.
Stream the NRL Premiership 2022 live and free on 9Now.
Sports news, results and expert commentary. Sign up for our Sport newsletter.
Most Viewed in Sport
From our partners
Source: Read Full Article
The post Why Wally Lewis wouldn't wear No.6 in today's NRL first appeared on europesportsnews.com.