For more than a century they've been the heartbeat of their little town, the glue that keeps the community together. But a few months ago, things were looking grim for the Barcaldine Sandgoannas.
Numbers were low at pre-season training – so low they couldn't field a team. They couldn't find a coach, either. Nobody was putting their hand up, except for a persistent 17-year-old kid.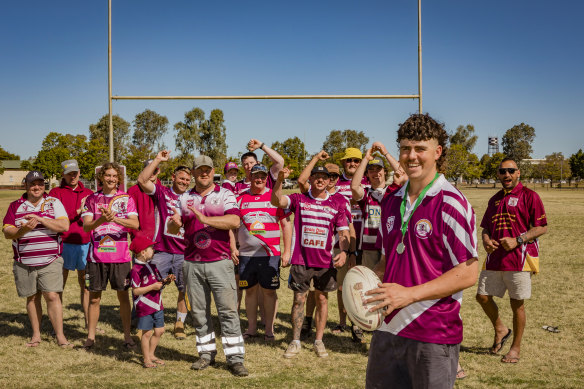 Teenager Mannix Hunt stepped up when the Barcaldine Sandgoannas couldn't find a coach, and couldn't put together a team. Now they're champions.Credit:Aaron Skinn/SMH
The committee was faced with a choice: accept defeat and effectively fold the club, or let Mannix Hunt coach.
"He was there the whole time wanting it," president Rhys Peacock said.
"We were very apprehensive because of his age. To have a whole community right on your back … especially when it comes to sport, people can be very critical and sometimes a little bit nasty. There was a big question mark, but we had our first home game, and he really impressed a lot of people."
Thus began one of rugby league's great underdog stories.
After taking over as captain-coach, Hunt brought with him a tribe of family members who helped out in the canteen, ran the sidelines, and provided the momentum for their player recruitment drive.
From the brink of closure, he guided his hometown club to a life-affirming premiership. On Saturday, the Sandgoannas twice came from behind to beat the Blackall Magpies 14-10 in Queensland's Central West league grand final.
It's only a five-team competition, but they came home with a wet sail, responding to a four-game losing streak by winning their last three home-and-away games to squeak into the finals. The grand final, he said, was a "grind"; the hardest game he'd ever played.
Now Hunt, who has since turned 18, will probably never need his wallet in the local pub ever again.
The teenager had a full heart but a heavy head when he spoke to the Herald after a weekend of rowdy celebrations, which have suddenly put the spotlight on the remote town of Barcaldine, population 1500 – a 12-hour drive north-west of Brisbane, just outside of Longreach – and the social importance of sport in small communities like it.
"It's amazing – even people in Sydney want to hear about it," he said.
Hunt, an electrician by trade who finished school last year, came through the Sandgoannas' junior program and had long dreamed of playing for their first-grade team and following in the footsteps of his dad and uncle.
"They were having trouble finding a coach, and I love playing footy. I wasn't gonna sit on the weekends and do nothing," he said. "I was like, bugger this, I'll put my hand up, I'll give it a crack."
Hunt feared what some of his teammates might have gotten up to if Barcaldine – the NRL's community club of the year for 2021 – didn't have a team this season to keep them busy and focused.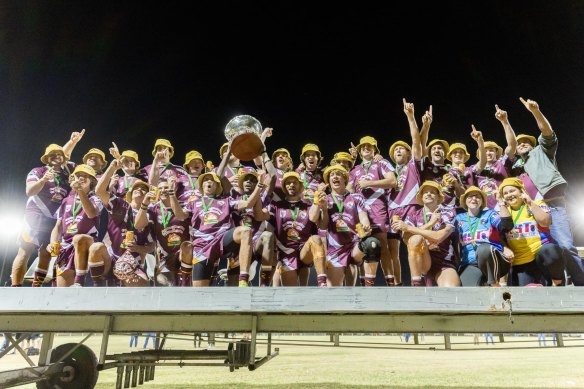 The Barcaldine Sandgoannas celebrate their unlikely grand final win.
"It's an outlet for young kids to expose all their anger, their anxiety. Even just to be there with your mates, give them something to do on the weekends – it's all an opportunity to do that," he said.
"Without it, there'd be a lot of mischief, I reckon."
Said Peacock: "We've got some players here, one's been playing 11 years for Barcaldine. This was the first grand final he's ever played in. Every time I walk past him, he says, 'we just won the grand final!'
"One thing that I'm very proud of our club and our community is that it's very inclusive – there's 25 blokes from completely different walks of life that have just become best friends."
The warm, fuzzy feelings don't stop there. The day after the grand final, every Sandgoannas player was "auctioned off" to winning bidders who dressed them up for their "Silly Sunday" drinks in second-hand women's wear and other novelty items from The Shop of Opportunity, a local charity store run by volunteers.
That's where half the $3700 that was raised went to – the rest went to Viv, the club's 90-year-old matriarch who had a car accident about a week ago, leaving her without a set of wheels.
"She's the queen of league out in the bush," Hunt said. "Wherever you go in the town now, there's Goannas signs, there's balloons, banners, everything. It's really brought the community joy. It's really thriving. It means everything."
Hunt has big plans for the club's future, and hopes to capitalise on the publicity their grand final win has brought. But he said he couldn't have done any of it without the senior players who helped guide him, his family, and especially his uncle James, who has mentored him this year.
"I sort of winged it," he said. "I had a fair bit of support, a few older blokes helped me, gave me a bit of knowledge and whatnot. Anything's possible if you put your mind to it, I guess."
News, results and expert analysis from the weekend of sport sent every Monday. Sign up for our Sport newsletter.
Most Viewed in Sport
From our partners
Source: Read Full Article
The post The teenager who saved his bush footy club from oblivion – then coached them to a premiership first appeared on europesportsnews.com.