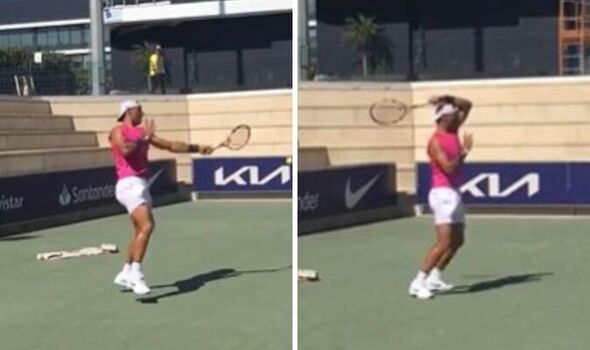 We use your sign-up to provide content in ways you've consented to and to improve our understanding of you. This may include adverts from us and 3rd parties based on our understanding. You can unsubscribe at any time. More info
Rafael Nadal has been seen training for the first time since withdrawing from Wimbledon with an abdominal tear. The world No 3 is aiming to be back in time for the Canada Masters ahead of the US Open and appears on track for a comeback as he hit the practice court at his Rafa Nadal Academy in Mallorca on Monday.
Nadal came to Wimbledon bidding for the Calendar Grand Slam after winning the first two Majors of the year for the first time in his career. But his hopes were quashed when he picked up an abdomen injury that saw him close to retiring in a five-set quarter-final win over Taylor Fritz.
On the eve of his semi-final against Nick Kyrgios, the Spaniard withdrew and confirmed he had suffered a 7mm tear in his abdomen, but was hoping to continue with his intended schedule of playing the Montreal Masters before attempting to win a record-extending 23rd Major title at the US Open.
And the 36-year-old now has a huge boost in his preparations for the last Major of the year as he has already returned to training as planned. Nadal was seen hitting at his own academy in his home of Manacor, rallying from the baseline and chasing down balls.
JUST IN: Russian tennis star breaks down in tears over fear for condemning war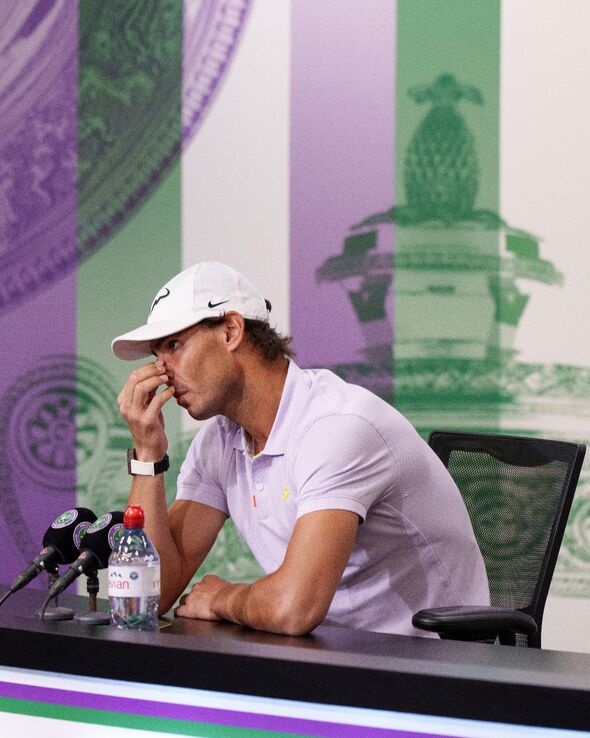 When he pulled out of Wimbledon, the 22-time Grand Slam champion shared his hope to be back in training without serving in around "one week" from his withdrawal, and just 11 days after his shock announcement at the All England Club, he was back on the practice court. It comes after the tournament director for the Montreal Masters confirmed that Nadal would return to training on Monday.
Eugene Lapierre also said the Spaniard had already booked his hotel for the event, as well as requested some balls used at the tournament to practise with, sharing his intention to be back in action when the Masters 1000 starts on August 7. "Nadal really wants to come to Montreal and his hotel rooms are already booked. He has asked us to send him a case of the balls we're using for the tournament to prepare. He should return to training on Monday," he said.
DON'T MISS
Russia's Rublev shares Wimbledon wish as he considers new citizenship
Novak Djokovic sent blunt vaccine message by Canada Open chief
Russian tennis star Daria Kasatkina comes out as gay and shares fears
Nadal himself claimed that his injury would only keep him out for three to four weeks and knew he would be able to start practising from the baseline soon after his Wimbledon withdrawal. When announcing he was pulling out of the tournament, he said: "It going to be around between three, four weeks, normal thing for these kind of injuries. So I hope these three, four weeks will allow me to do my normal calendar. That's the calendar that I have in mind.
"I can't keep playing, not now, but in one week I going to be able to play from the baseline. Not serving for a while, of course. Playing from the baseline not going to be a big deal. In some way that's a positive thing, that I going to keep being able to practise from the baseline. That helps to try to make the calendar that I want to do."
Source: Read Full Article
The post Rafael Nadal trains for the first time since quitting Wimbledon injured in US Open boost first appeared on europesportsnews.com.