The Herald's recent story on which players from the 1982 Invincibles would be champions in today's game invites a further question: which NRL players over the past 10 years would be stars under the rules 40 years ago of contested scrums, a five-metre defensive line, with only two replacements allowed and no interchange?
In other words, who of today's best could manage 80 minutes, even allowing for the breaks in play which came with more penalties and delayed restarts.
Skill in putting a teammate through a gap with the defence only metres back becomes more important than making 10-plus metres on every carry. Creative players, aka natural footballers, were more important than athletic ones in the early 1980s.
Given the absence of 10-camera coverage of games, players easily provoked would be targeted. For this reason, I can't include Latrell Mitchell who might find himself reacting to a barb and be sent off, rather than to a sin-bin which was yet to be used. (Latrell, who is guilty of being bored even in today's fast-paced game, would have more opportunities to study the crowd, clouds or passing aircraft).
Fullback
Billy Slater: He is a champion of any era. The rulemakers introduced seven-tackle sets to deter opposition teams from kicking the ball dead, rather than risk him running the ball back. Tracking a heavy leather ball through the air presents less of a challenge than today's wicked floaters.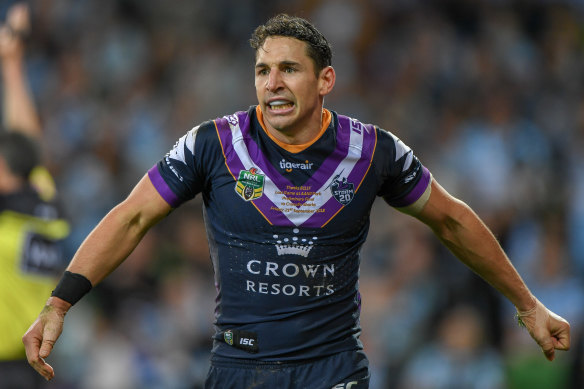 Billy Slater is a no-brainer at fullback.Credit:NRL Photos
Wingers
Valentine Holmes: He has only been back to his best this season but has great positional sense in attack and defence. Speed is a valuable asset in any era, especially the 80s.
Brett Morris: Big, strong and while not as fast as his dad, would not be deterred by the headhunters when wingers were often required to run the ball infield from tap kicks. He could also fulfil the winger's duty of buying beers for forwards.
'He would have been dynamite in our day.'
Centres
Greg Inglis: His powerful right-hand fend could palm Sunday. He is a natural left centre in an era when Sydney clubs were abandoning the system of inside and outside centre.
Tom Trbojevic: Skilful and quick, he could exploit defences which tended to bunch. Either centre in this team could switch to fullback or wing.
Five-eighth
Johnathan Thurston: With defensive lines only five metres back, he could exploit any weakness with a run, pass or kick before the gap was closed. Properly packed scrums would offer him more variety in attack.
Halfback
Cooper Cronk: Two small halves was never the preferred option in the 1980s but his ability to read a game makes his inclusion mandatory.
His critics say he never did it tough, playing only with top sides the Storm and Roosters, to which I say: never doubt the toughness of one who played a grand final with a busted shoulder.
Front row
Jared Waerea-Hargreaves: Tough and not intimidated, he would pack on the blind side of the scrum. Les Boyd says, "He would have been dynamite in our day."
Jesse Bromwich: For a big frame, he has a neat step and ability to sneak an offload.
Hooker
Cameron Smith: It would take him five minutes to learn the art of scrummaging, such as striking for the ball, taking advantage of a loose arm, drawing the attention of the referee to opposition breaches. Plus he would exploit tired defences around the ruck.
Second row
Luke Lewis: He played at the top for a long time, the definition of an elite player in the early 80s. He could also fill a gap in the backs if needed.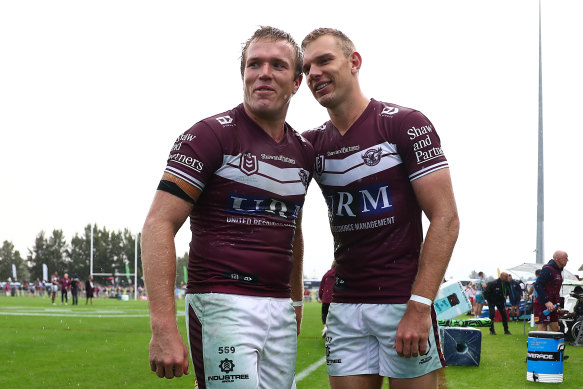 Jake Trbojevic and brother Tom both make the grade.Credit:Getty
Boyd Cordner: Tough and durable with good ball skills. OK, concussion cut short his career and he would have endured even more knocks back in the day.
However, in that era dizziness was more associated with alcohol consumption.
Lock
Jake Trbojevic: He can adapt to whatever is required in a game, be it taking the ball up when others go missing, leading the defensive line forward or linking with the backs. He has the ball-playing skills preferred by 1980s coaches for those who packed the base of the scrum.
Bench
With only two replacements allowed, one must be a forward and the other a back.
Paul Gallen: He has the toughness and durability of the old style props, plus he could fill in as hooker in the unlikely event Smith left the field with shredded shins.
Jack Wighton: A natural replacement for anywhere in the back line or back row. Versatility is a major factor with a two-man bench. The physicality of play wouldn't trouble him.
So who would win if the two teams met?
Modern players, being bigger, faster and stronger have the better team. But the players of 40 years ago had the better time.
Stream the NRL Premiership 2022 live and free on 9Now.
Sports news, results and expert commentary. Sign up for our Sport newsletter.
Most Viewed in Sport
From our partners
Source: Read Full Article
The post Old school: Why the Trbojevics would be champions in any era first appeared on europesportsnews.com.