We use your sign-up to provide content in ways you've consented to and to improve our understanding of you. This may include adverts from us and 3rd parties based on our understanding. You can unsubscribe at any time. More info
Novak Djokovic wants Wimbledon to follow through on 'talks' that he's heard are taking place on bringing forward the start time of Centre Court and Court One play after his clash with Tim van Rijthoven finished just minutes before the curfew. Wimbledon have stuck to tradition over the years, starting play on the main two courts at 1pm and 1.30pm respectively.
On the outside courts, play starts at 11am, meaning most matches are all finished by early evening. But Wimbledon's centenary celebration for Centre Court on the first middle Sunday where games were played at the major saw the first match delayed until after 2pm.
Heather Watson didn't step out onto court until 2.08pm and that had a knock-on effect throughout the day. Djokovic was scheduled last on Centre with Carlos Alcaraz and Jannik Sinner going deep into the night and the No 1 seed didn't start play until around 8pm.
That left just three hours for the match to be done and dusted before the strict 11pm curfew in place at Wimbledon, which could have seen play stopped and restarted on Monday. Thankfully for the six-time Wimbledon champion, he was able to wrap his win up just in time to avoid that scenario.
JUST IN: Alcaraz denied potential Djokovic clash after Wimbledon loss to Sinner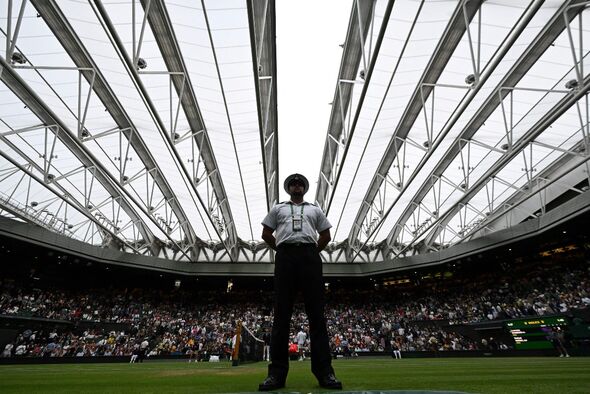 But Wimbledon have long seen matches on their main two courts go deep into the night, particularly when there is a five-set tie. Nick Kyrgios and Stefanos Tsitsipas' blockbuster battle on Saturday night on Court One threatened to go long and the roof had to close due to lack of light midway through the match.
Djokovic played his entire match under the Centre Court lights and he feels conditions are completely different on the grass surface when the roof is closed. The world No 3 has heard from his team that Wimbledon are in talks about pushing forward the start times from 1pm and 1.30pm and he wants the All England Club to make it happen.
"Well, look, we know that Wimbledon has always been respecting its tradition," Djokovic said. "So the times when the matches start on Centre Court and Court 1 has not been changed for many years, but I hear there are some talks about maybe moving the beginning of the matches, the first matches on the big courts, especially Centre Court, a bit earlier.
DON'T MISS
"I don't see a reason why there wouldn't be an earlier start, to be honest, particularly now that there are on-court interviews that we didn't have up to few years ago. Also the time between the matches, you almost certainly, if you're scheduled last on the Centre, you're going to end up a match under the roof, which changes the conditions, the style of play, the way you move on the court. It's more slippery. The lights.
"It's really an indoor tournament in most of the cases when you're scheduled last on Centre or Court 1, for that matter, as we saw last night with Tsitsipas and Kyrgios ending up the match quite late as well, and Nadal as well. Yeah, I mean, of course today it was a special occasion. I think it was necessary to celebrate the hundred years of Centre Court.
"For me it was an honour. I was very happy to be part of it. So, of course, it's one of those unique moments that you get to live as a tennis player, and I'll cherish it, of course.
"But I think most of the players would probably agree that we would all want the start of the match on Centre Court pushed earlier."
Source: Read Full Article
The post Novak Djokovic uses Nick Kyrgios example in request to Wimbledon as 'talks' held first appeared on europesportsnews.com.