Ashley Moloney is poised to win Australia's breakthrough medal on the track at these Olympics tonight and become the first Australian ever to win a decathlon medal.
Moloney enters the last night of the decathlon in second place after an outstanding session on Thursday.
Australia has never finished higher than sixth in the decathlon and has yet to win a medal in any event on the track at these Games despite outstanding performances delivering national records and numerous personal bests.
Australian Ashley Moloney competes in the men's decathlon pole vault on Thursday.Credit:Getty Images
Moloney opened up his day-two of the decathlon in second place and ran a personal best in the opening event, the 110-metre hurdles when he ran 14.08s. It was the fourth-quickest time of the morning and held him in second place.
He carried the ranking again through the discus when he threw 44.38m which was the shortest distance of the top six, meaning he gave up ground on the points table but was still able to hang onto second place.
Critically he then nailed a 5-metre jump in the pole vault to hold his place. At 5.10 metres he lost his grip when flipping up in transition and missed the height.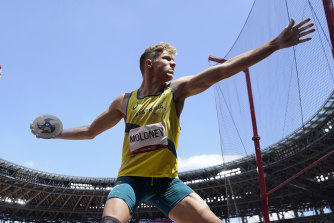 Ashley Moloney competes in the decathlon discus on Thursday. Credit:AP
He missed twice more at 5.10m, which would have been a 5-centimetre PB, to finish with a best height of 5m. The leader, Canada's Damian Warner, has such a strong lead it appears more a battle to stave off the threat from those chasing his second place.
Canada's Pierce LePage in third jumped 5 metres the same as Moloney, so the Australian held his ground against him but former world champion and Rio silver medallist Kevin Mayer from France in fourth edged closer to him.
Never miss a medal or great sporting moment with our Olympic update emailed daily. Sign up for our Sport newsletter here.
Most Viewed in Sport
Source: Read Full Article
The post Moloney closing in on breakthrough decathlon medal first appeared on europesportsnews.com.