They say the darkest hour is the one before the dawn.
It's likely it is neither given Newcastle have been through far worse weeks than the one just past.
And the Tigers were thoroughly obliging hosts in Campbelltown, producing one of their worst halves in some time before threatening a 14-point comeback for the ages.
But when HR scrubs out your best player, the coach concedes he "looks like an egomaniac" and the wooden spoon starts eyeing off your cutlery drawer, you take your wins any way, any how.
Newcastle did so in the wobbliest way possible, a 14-10 win just their fourth in 18 starts and just the tonic for a stiff past seven days.
It came with 17 errors and for one brief moment, the most poetic of Tigers' captain's challenges that would have handed Daine Laurie a match-winning try.
But with none of the fuss or mistakes of Townsville, Adam Doueihi was correctly ruled to have knocked on a bomb in front of the posts, and Newcastle's desperately needed triumph remained on track.
That is, except for the frantic final set when the Tigers pressed the Knights' line. Already second-half tries to Brent Naden and AJ Kepaoa had the visitors nerves fraying more and more with each passing minute.
Yet for all of Newcastle's guts in defence, two of the Tigers' final plays saw runs taken from dummy-half and mid-field when several players stood out wide unmarked.
As said earlier, any way, any how.
Where Adam O'Brien was at a loss following last week, prompting the 'I've been to four grand finals' press conference he'd like to take back, Sunday's outing saw backbone at last shown by his beleaguered side, and confidence gradually grow as a result.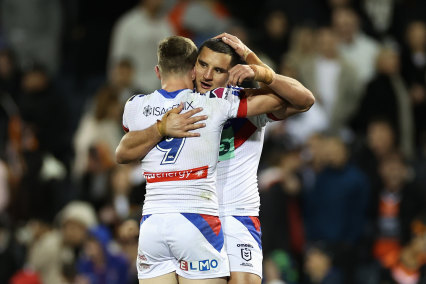 Jayden Brailey and Mat Croker celebrate the Knights' win on Sunday.Credit:Getty
While David Klemmer was sidelined by the ham-fisted fall-out from his on-field spat with trainer Hayden Knowles, Newcastle at last borrowed from the big man's playbook, hitting with a purpose seen all too rarely this season.
The Tigers offered little of the sort in slumping to a 14-0 half-time deficit.
Newcastle may have made four times the handling errors of their opposition, but the Tigers mistakes didn't always show up on the stats sheet.
Enari Tuala's opening four-pointer for instance goes down in the books, but Tigers fans can long bemoan Ken Maumalo's lumbering seven-point turn for the grubber in behind the Kiwi winger.
The Tigers were more than happy to keep putting on a spread for the visitors though with some lackadaisical efforts coming out of trouble. Soon enough Tuala had his second, untouched thanks to a yawning overlap.
When Doueihi badly misjudged an attempt to stop Tex Hoy and was treated with the disdain he deserved, the Knights lead was out to 14. It would go no further.
That it was Dominic Young – one of the Knights' best in a miserable 2023 campaign – beaten all ends up by the bomb that started the Tigers comeback, was cruel but again not entirely unexpected given the club's current fortunes.
Young was all at sea under a Doueihi bomb in the 52nd minute, the Knights wobbles beginning in earnest as Naden latched onto the simplest of tries.
A small mountain of mistakes followed before Kepaoa beat Dane Gagai all ends up, reducing that handy 14-0 lead to a tremulous four-point advantage.
But after a week in which plenty fell apart for the Knights, this one thankfully held strong.
Most Viewed in Sport
From our partners
Source: Read Full Article
The post Knights survive late scare from Tigers to salvage horror week first appeared on europesportsnews.com.