The English winger who suffered an exploded testicle in a training-ground collision says he hopes to venture Down Under to try his luck in the NSW Cup or Queensland Cup.
Jack Johnson made headlines in his homeland after suffering a painful knock to his groin last Thursday while training for Newcastle Thunder, who play in The Championship, the league competition below the Super League.
The 26-year-old winger told the Herald a stray knee from teammate Isaac Nokes initially left squad members in stitches – but also kick-started the worst 10 hours of his life.
Johnson said his testicle ballooned to the size of a tennis ball after the impact and had to be surgically removed.
While most of England's sports media has been focused on the Commonwealth Games and their women's soccer team's European Championship victory, Johnson's eye-watering injury still made headlines in the tabloids, with The Sun running a story of his mishap under the headline Done His Nut.
"We were doing a defensive drill at training, I made a tackle, but as I've gone to put [Nokes] on his back, his knee came up and it went straight into my testicle," Johnson said.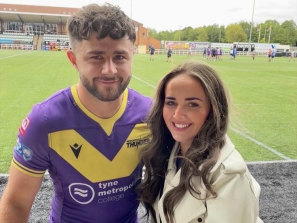 The Newcastle winger with his relieved girlfriend, TarynCredit:Instagram
"I tried to get up, did another tackle, but then I walked off the ground but threw up three times on the pitch. I went green.
"I laid down in the physio's room and all the lads came in having a laugh. They enjoyed seeing me in pain. They didn't realise how bad it was at the time. After an hour I checked on my testes and one of them was huge, like three to four times the size of normal. It was like a tennis ball. That's when I drove myself to hospital."
Johnson drove from Kingston Park to the nearby Royal Victoria Infirmary, where doctors sent him to "minor injuries".
"But I thought, 'Bloody hell, it's not minor, it's killing me'," Johnson said.
Johnson was sent to another hospital for scans, where doctors told him the blood supply to the affected teste had been cut off and he needed gelding. He underwent surgery around 10pm, 10 hours after being brought to his knees at training.
"The first question I asked was about [having] kids, and they said as long as the other teste was fully functioning I'd be OK," Johnson said.
"My penis is still in full working order. I also asked if I could keep the teste that was removed so I could put it in a jar on the mantelpiece in the living room, but they just got rid of it."
Johnson will not play again this season. He quipped he had ruled himself out of Shaun Wane's England World Cup side.
Johnson would love a season in reserve grade in Australia, but for the time being will focus on his recovery.
"I've had mates go over to Australia, they've loved it and I think I'd love the experience – you only ever hear good stories, so it would be a great life experience," Johnson said.
Tyson Frizell underwent testicle surgery after receiving a painful knock in the opening round of 2019 while playing for St George Illawarra and was back by round four.
New Zealand Warrior Chanel Harris-Tavita went down with a similar blow against the Melbourne Storm this year and was sidelined for five weeks.
Stream the NRL Premiership 2022 live and free on 9Now.
Most Viewed in Sport
From our partners
Source: Read Full Article
The post 'I threw up three times': English winger on pain of 'exploded testicle' first appeared on europesportsnews.com.