Steve Solomon ran the best first race of season of his life last year. He thought, "Hello, Olympic year, this could be good." Two days later he couldn't walk. Given he's a runner, not being able to walk is not ideal.
For 20 weeks he couldn't even jog. He had torn the very top of his hamstring where the tendon joins with his bum and his seat bone.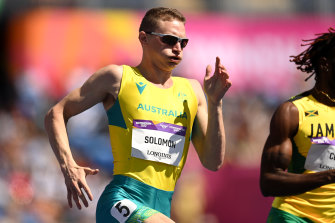 Steve Solomon at the Games in Birmingham.Credit:Getty Images
It is the hamstring injury – a tendinopathy – for which there is no quick fix. You can't have surgery on the tear, you can't have calf's blood injections or wolf's nipple chips (get them while they're hot, they're lovely), you just have to wait and sit it out.
For most of us that is called winter, but for Solomon, that was agony. He couldn't swim, as that would aggravate it. He couldn't ride, as grinding away on the seat was a worse pain in the bum than, well, grinding away on a bike seat. He couldn't do anything but wait.
While he sat and walked slowly and waited, he had the Tokyo Olympics looming, and expectation was that he would be arriving ready to run a single lap of an athletics track really fast. Ordinarily this is something Solomon does quite well. He has been to five world championships, two Olympics – he made the final as a 19-year-old kid at the London Games – and at the last Commonwealth Games on the Gold Coast he made the final.
So as Tokyo neared, he worried if he'd be right. He wasn't, but got himself there and willed himself to a personal best in the heat and finished third in the semis but was cruelly only the first two finishers went through and he was cut. Ruthless.
Australia's Steve Solomon and Jamaica's Anthony Cox in the heats of the men's 400 in Birmingham.Credit:Getty Images
For a year, he tried to get himself right. He went to the world championships and nothing worked, ran slowly and was run out in the heat. He was not far off but in a sport of small margins it was enough.
He arrived in Birmingham and within two weeks he pulled it together. What had been struggling to connect in the US now clicked.
On Wednesday morning in Birmingham, he ran second in his heat in 45.98 seconds to go through to the semi-finals. From the year he had had this was just extraordinary, and he is ready to do more.
"One of the things I will always keep in my pocket as a weapon is my experience at these championships. Having done it so many times now even if I haven't had the ideal preparations physically with some injuries I know that once I am here I know I can come in with some confidence," he said.
"To bounce back as I did today and continue on the rest of the week here is something to be proud of.
"It means an awful lot to me to that here because I am in the back-end of my career, I am 29 now.
"I have still got really big goals in this sport and even if I am coming towards the back-end of my career it doesn't mean that I am taking my eye off those, but these events bring some confidence and a nice reward for an extremely challenging year.
"I still feel it. It is good enough now I can have confidence pushing through the ground but what killed me at worlds is I didn't have any confidence pushing into the ground. My first 100 was 11.7s and I think [South African runner Wayde] van Niekerk ran 10.8, [so] I am 11 metres behind after 100 metres. It is very difficult to catch up even if my back-end is the stronger part of my race, you can't give up that much ground in 100m. But I have got confidence in it now."
Get all the latest news from the Birmingham Commonwealth Games here. We'll be live blogging the action from 4pm-10am daily.
News, results and expert analysis from the weekend of sport sent every Monday. Sign up for our Sport newsletter.
Most Viewed in Sport
From our partners
Source: Read Full Article
The post For 20 weeks, Steve Solomon couldn't even jog, but now he's back on track first appeared on europesportsnews.com.