In today's AFL briefing, your daily wrap of news:
AFL confirms the times for the round 23 fixture, including the Carlton v Collingwood blockbuster.
Leigh Matthews slams the league for not protecting the player with the ball after Sunday's controversial decision involving Jack Ginnivan
Jake Lever will be back for Melbourne's Friday night clash against Fremantle, but Ben Brown will spend another week on the sidelines.
Toby Greene admits the idea he's known more for controversial moments than his footballing skill frustrates him.
Jon Pierik has run the rule over the teams in contention for September and what the run home looks like.
Check back throughout the day for more updates.
Fabric of the game under attack says Matthews after Ginnivan decision
AFL legend Leigh Matthews says the fabric of the game is under attack as he slammed the league for not protecting the player with the ball after Sunday's controversial decision not to pay Collingwood's Jack Ginnivan a free kick for a head high tackle.
He said he felt sick when he saw the incident during the Collingwood-Essendon match and that the AFL should have been stronger when describing the decision as wrong in a statement on Monday that had a bet each way when it said Ginnivan had lowered his body but the tackler, Bomber Mason Redman, had held on to him around the neck for too long.
Matthews said the directive the AFL provided last week on high contact focused too much on what the player with the ball was doing rather than encouraging the tackler to get it right.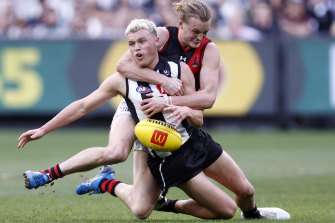 Mason Redman's tackle on Collingwood man of the moment Jack Ginnivan.Credit:Getty Images
"The fabric of the game is being attacked in my view," Matthews told 3AW.
"All of a sudden the guy with the ball is under scrutiny. Can we scrutinise the damn tackler every now and again?"
He said Ginnivan had been victimised on Sunday, but it was not the umpire's fault, it was a decision borne out of a shift in philosophy at the AFL.
Matthews said his initial thought when he saw the incident was to ask himself, what are they doing to the game?
"And when I say 'they' I mean (AFL chairman) Richard Goyder and the commission who are the only body that actually change rules and [AFL CEO) Gillon McLachlan and his coaching cohort of advisers that are making the game easier for the tackler and harder for the bloke with the ball," Matthews said.
"It got my blood boiling. Every other player in the competition would have got that free kick … I felt sick. That was virtually not only a high contact headlock, it was bordering on unduly rough play."
Last Tuesday the AFL responded to the increasing number of players drawing free kicks for head high contact with a statement that outlined the directive to umpires.
Mason Redman's high takle on Jack Ginnivan.Credit:Twitter / Seven Network
The statement read: Where the tackle is reasonably applied, there is no prior opportunity and the ball carrier is responsible for the high contact via a shrug, drop or arm lift – play on should be called.
Where the tackle is reasonably applied, and there is prior opportunity, and the ball carrier is responsible for the high contact via a shrug, drop or arm lift – holding the ball should be called.
"The 'support the tackler' lobby has won a significant battle. I hope they haven't won the war … it is one free kick but it is a symbolic gesture, a symbolic free kick showing this is where the game is," Matthews said.
AFL releases round 23 fixture for thrilling crescendo
The AFL has confirmed the timeslots for the final matches of the home and away season, which will feature a super Sunday of clashes that could all have bearing on the final eight.
As reported by The Age on Monday, Carlton and Collingwood will play the penultimate game of the home and away season, scheduled for 3.20pm on Sunday, August 21, all but guaranteeing an exciting clash in front of a heaving crowd.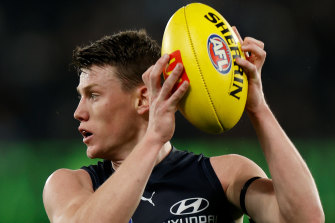 Sam Walsh's Blues will host Collingwood at the MCG in the penultimate game of the home and away season.Credit:AFL Photos
Kicking off round 23 will be another blockbuster with Brisbane hosting Melbourne at the Gabba on the Friday night, and the following evening at the MCG Essendon will take on a Richmond side desperate to clinch their own finals berth.
Sunday will also feature Hawthorn and Western Bulldogs at 1:10pm and St Kilda taking on Sydney at Marvel Stadium in the Sunday twilight spot, 4:40pm, in two games that could determine finals placings.
Travis Auld, the AFL's head of finance, clubs, and broadcast, said it was a compelling season of football thus far: "Our round 23 fixture is a fitting conclusion to an exciting season. The top eight is still very much in the balance, and if the matches are anything like what we witnessed last weekend, it's sure to be one of the best rounds of the season," he said.
"The 2022 season has been more like the game we know and love, a return to the rituals of going to the footy and barracking for our teams, but it hasn't been without its challenges. We want to thank every fan who turned up week after week to support their club and hopefully help them land a coveted spot in the top eight."
Other games that round include GWS v Fremantle at Manuka Oval, North Melbourne v Gold Coast at Marvel, Geelong v West Coast at GMHBA Stadium, and Port Adelaide v Adelaide at Adelaide Oval, all on Saturday.

ROUND 23 FIXTURE
Friday, August 19
Brisbane Lions v Melbourne, 7.50pm (Gabba)
Saturday, August 20
Greater Western Sydney v Fremantle, 1.45pm (Manuka Oval)
North Melbourne v Gold Coast, 2.10pm (Marvel Stadium)
Geelong v West Coast, 4.35pm (GMHBA Stadium)
Essendon v Richmond, 7.25pm (MCG)
Port Adelaide v Adelaide, 7.30pm (Adelaide Oval)
Sunday, August 21
Hawthorn v Western Bulldogs, 1.10pm (UTAS Stadium)
Carlton v Collingwood, 3.20pm (MCG)
St Kilda v Sydney Swans, 4.40pm (Marvel Stadium)
Lever back for Dees, Brown to miss another week
Simon Goodwin has confirmed defender Jake Lever will be available to play Melbourne's blockbuster clash against Fremantle on Friday night in Perth, while key forward Ben Brown will spend another week on the sidelines.
Lever hurt his shoulder in round 18's win over Port Adelaide but was assessed the following Friday and cleared of any structural damage. However, he Lever missed the loss to the Bulldogs.
"Jake Lever will be fine to go, he was obviously pretty close last week but he'll train fully today and he'll play," Simon Goodwin said on Tuesday.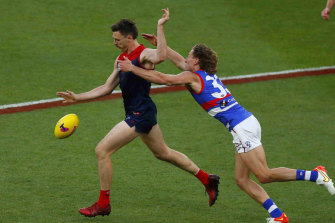 Jake Lever during 2021 Grand FinalCredit:AFL Photos
However, the club will continue to manage Brown's ongoing knee issues and keep him on the sidelines for another week.
"We're really confident we're on top of it, it's an ongoing thing that he's going to have for the rest of his career and something we've had to manage for a long period of time now already with Ben," said Goodwin.
"He's just getting a little bit sore, a bit more wear and tear within his knee, so we want to make sure we give him some time off, set him up the right way, get some training into him and bring him back and get his best footy back to where we know he can play and set him up in the right way moving forward.
"So, we're really confident he'll be back next week."
Goodwin also confirmed James Jordon would be right to play after a nasty incident with his medial ligament.
Heading into the top-four clash, Goodwin admitted the side would be looking to add some hunger to their defence, which was lacking last Saturday when the Bulldogs kicked 110 points against them.
"We need to get that real consistency in how we play, that ruthless edge about how we play and that's our challenge moving forward for the back three or four rounds of the season."
'It just seems to happen': Greene frustrated by reputation
AAP
GWS co-captain Toby Greene admits the idea he's known more for controversial moments than his footballing skill frustrates him, although he concedes he's only got himself to blame.
A circumspect Greene, who had been suspended for 14 matches and fined $29,350 across his career to the end of the 2021 season, said he burned watching his teammates play the first five rounds of this campaign while serving a ban for his most infamous moment.
That incident was his bump of an umpire during the Giants' match against Sydney in last year's finals, with an initial three-match ban handed down by the tribunal increased to six on appeal.
Regarding his perhaps-negative reputation, Greene hoped the footballing world would move on.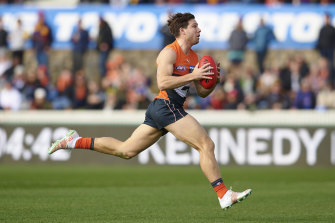 GWS' Toby Greene.Credit:AFL Photos
"At the time, it probably frustrates me and certainly what happened in the finals series last year burned for a couple of weeks, no doubt about that," he told Fox Sports.
"But I move on pretty quick, I think the footy world moves on pretty quick as well.
"It's just part of it, and I've got myself in some controversial incidents in high-profile games. I don't try to do it, but it just seems to happen."
Of his umpire bump, Greene admitted there was no excuse for his actions.
"Obviously it got talked about quite heavily … and rightfully so, it was the wrong thing to do," he said.
"Three weeks was probably a fair whack and then when they said we're going back [to an appeal] there was no point rocking up, I was getting six [weeks].
"I certainly learned my lesson, it burned not playing the first five games of this year."
Greene insisted the Giants did not need a complete rebuild despite a 5-13 campaign highlighted by the departure of coach Leon Cameron.
"We don't need a whole reset, I don't think that and I don't think the club thinks that at all either," he said.
"We as players haven't performed up to our level this year, Leon probably copped it unfairly … but we certainly think we should be better than what we are and we need to deliver on that as a playing group."
Keep up to date with the best AFL coverage in the country. Sign up for the Real Footy newsletter.
Most Viewed in Sport
From our partners
Source: Read Full Article
The post Fabric of the game under attack, says Lethal; Round 23 fixture released; Lever returns for Demons first appeared on europesportsnews.com.