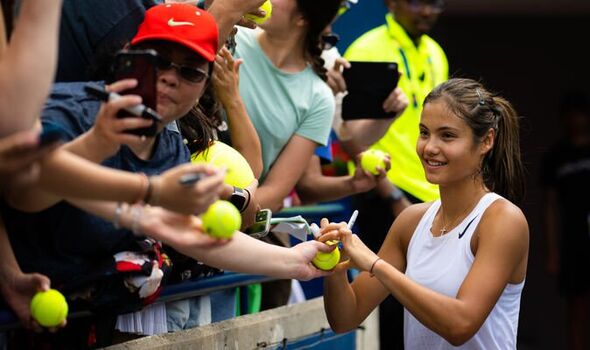 We use your sign-up to provide content in ways you've consented to and to improve our understanding of you. This may include adverts from us and 3rd parties based on our understanding. You can unsubscribe at any time. More info
Russian-state TV delights in Emma Raducanu's new Russian coach
Emma Raducanu has revealed she wants to "start again" with a "clean slate" after her US Open defence later this month. The British No.1 shot to worldwide fame by winning her first Major title as a qualifier in New York last year.
But the Kent teenager has struggled since and she has won only 10 matches in 13 events this season. Raducanu showed improved form by reaching the quarter-finals in Washington last week and will this week play in the National Bank Open in Toronto – the city of her birth.
But asked to reflect on her last year, the US Open champion said: "You don't always realise – it is pretty easy to forget. My parents have always been pretty on me and involved. Nothing changes – they tell me off for the same things! They just as involved in certain decisions because at the end of the day, I am a 19-year-old
"To have success at a young age, obviously you have to be really grateful because I'm doing what I love, but also I've reached success way earlier than I ever really would have thought I did. So I'm pretty proud of myself in that way.
"But it has been a tough year. I've definitely gone through and experienced a lot of challenges. To be fair, I've learned a lot from all of it. I think it's going to be nice once the US Open is finished and [I can] carry on from there. Start again.
"I think it will be nice to take all of the lessons from the last year and just [have] a clean slate."
In her pre-tournament press conference, the 19-year-old revealed she is planning to rediscover the Canadian city after leaving to live in the UK at the age of two.
"I am really looking forward to being in Toronto," she said.
"I was born here and I haven't been back since. I can't wait to go back and visit places I have photos in front of. I was born in North York hospital so I am going to go there. It was funny.
I was born and it was the doctor's birthday. I was born on the 13th (November 13 2002) and my dad was trying to delay it for a day before they thought 13 was unlucky. The doctor was like: 'No, 13 is not unlucky' and then they found out it was his birthday and he did pretty well for himself so they were like: 'OK, it's fine!'"
The No.9 seed will face 2021 Montreal champion Camila Giorgi in the first round on Tuesday after winning three matches in Washington last week.
"I have been pretty light on matches so every match for me is a win. It is just nice to see some progress from the two weeks of practice. I can't wait to carry on in the hardcourt swing."
Raducanu is also to play in the Western & Southern Open in Cincinnati before her US Open defence begins on August 29.
Source: Read Full Article
The post Emma Raducanu opens up on plan to defend US Open title and Toronto homecoming first appeared on europesportsnews.com.