Matthew Dellavedova is heading back to the NBA and Melbourne United are going back to the drawing board when it comes to figuring out their NBL roster for the upcoming season.
The Sacramento Kings confirmed on Saturday morning they had signed the NBA championship winner and Olympic bronze medallist to a one-year deal.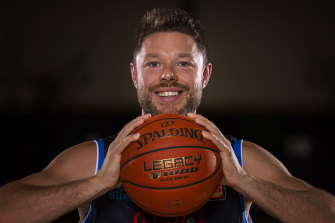 Matthew Dellavedova is heading to the Sacramento Kings in the NBA.Credit:Getty Images
Multiple reports said it was not fully guaranteed so Dellavedova will need to win a roster spot at training camp before the season starts but all signs point to him doing so as new Kings coach Mike Brown is a former coach and long-time admirer of the Australian guard's leadership skills and professionalism.
Brown was Dellavedova's first coach in the NBA when he was signed by the Cleveland Cavaliers and his Kings team is desperate for veteran leadership, especially at the point guard position where young playmakers De'Aaron Fox and Davion Mitchell show promise.
Dellavedova was contracted to spend this season with United but like all NBL deals, it has an NBA out clause and this will see United likely use their three import slots this season after previously using two of them and having Dellavedova as their franchise player.
After injury issues in his most recent NBA seasons, Dellavedova's strong showing for United this past season convinced the Kings he was worth signing.
Dellavedova becomes the latest player to use a season at Melbourne United as a springboard to the NBA, with Jack White signing a two-way deal with the Denver Nuggets for this season and Jock Landale moving from United to the San Antonio Spurs before the last NBA season.
"Playing for Melbourne in front of family and friends has been awesome, " Dellavedova said.
"My first year with the club was filled with so many great moments and was one of my most enjoyable years playing basketball, with the group of boys we had.
"I appreciate the club making me feel so welcome and getting me healthy and playing at a high level again."
The Maryborough product's move to the Kings has been on the cards for several weeks after news broke he had flown to the US for a private tryout with the club after leading Australia to three wins in FIBA World Cup qualifiers in Melbourne earlier this month.
United have been looking at import point guards as a contingency and they have the reigning defensive player of the year in Shea Ili, who can also take on the role.
"Melbourne United couldn't be more excited for Delly. His aim was always to come back to Australia, work on his body and his game, in order to then try and get back to the NBA," United coach Dean Vickerman said.
"To have helped him achieve that goal is fantastic. We're incredibly excited for him to be back in the NBA and we wish him all the best.
"Delly was massive for us last season. His knowledge and leadership, as well as his on-court ability, made us all better and you can't simply replace a person like that.
"With that said, the same way that we prepared for a scenario that had [Jack] Whitey leaving us, we prepared for this scenario, too.
"We are confident that we can now make some key decisions and bring in some serious talent that will help us go even further next season."
Dellavedova added that he had some unfinished business in Melbourne when this chapter of his NBA career ends.
"I feel like I've got unfinished business here, so hopefully I can return down the track and help United win a championship," Dellavedova said.
"I will definitely be following the team and supporting from afar this season."
Boomers teammate Aron Baynes announced on Thursday he would be signing with the Brisbane Bullets for the NBL season as he looks to plan an NBA return and the Bullets added more firepower on Saturday, confirming former NBA guard Tyler Johnson would fill one of their import slots.
Sports news, results and expert commentary. Sign up for our Sport newsletter.
Most Viewed in Sport
From our partners
Source: Read Full Article
The post Dellavedova earns return to NBA with Sacramento Kings as United look to plan B first appeared on europesportsnews.com.