Sam Burgess is returning home. The Rabbitohs premiership-winner has rejected a bold move from Dolphins coach Wayne Bennett to join the NRL's newest franchise as an assistant coach next year.
Instead, Burgess has recommitted his future to the Rabbitohs and is expected to join South Sydney as an assistant to Jason Demetriou in 2023.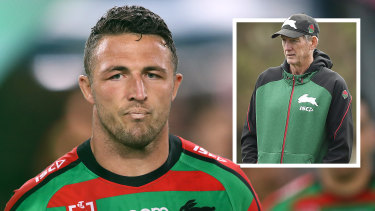 Sam Burgess has decided against a deal with Wayne Bennett at the Dolphins.Credit:Getty, Getty
Burgess was on the verge of reuniting with mentor Wayne Bennett at the Dolphins, however a series of 11th hour meetings with club officials has managed to lure Burgess from the grasp of the club's former coach.
Burgess was given a long-term deal by the Rabbitohs after he was medically retired in 2019. However he stood down from his roles at Fox League and the South Sydney Rabbitohs after allegations surfaced in a News Corp investigation.
He was working as an assistant under Bennett at the Rabbitohs at the time. After an internal investigation, the NRL later fined him $30,000 for a separate incident. He was also later cleared of domestic violence accusations by the court.
The Rabbitohs believe Burgess, who has been coaching Orara Valley Axemen in Group 2 in northern NSW, will add invaluable experience to a coaching staff that already includes former Dragons fullback Ben Hornby and 300-gamer John Morris.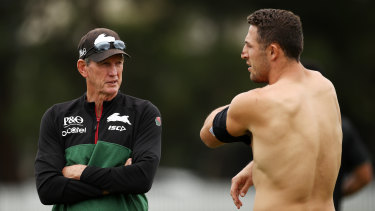 Shouldering arms: Wayne Bennett and Sam Burgess.Credit:Getty Images
The Dolphins are expected to land the services of St Helens and Tongan coach Kristian Woolf as Bennett's assistant for the next two years before he takes over from the veteran coach in 2025.
After Burgess was cleared of charges, he took to social media to express his views in March this year.
"I stand strongly against violence towards women. It has no place in society, no place in sport, no place in my life," he said via Instagram.
"I am thankful the NRL has finally cleared my name against all allegations of domestic violence. I have now been cleared of three very public and defamatory investigations. This has been a long and damaging process, taking a toll on me both physically and mentally.
"I have accepted full responsibility for the way certain aspects of my life have unfolded throughout the last three years. I can now move on and continue the next phase of my life knowing the truth has been revealed. I have made positive and impactful changes to my life and I am focusing on improving and developing as a man, son, father and now coach.
"I understand, but do not agree with all of the breach notices issued by the NRL. The punishment is grossly unfair and my lawyers have advised me of my appeal rights. However, I wish to move on with my life for matters that I believe have already been dealt with by the courts, judiciary and publicly.
"I would like to thank everyone who has supported me throughout this entire process; it has meant a lot to me and has certainly not gone unnoticed. Most importantly, I would like to thank my family for their unwavering love and support."
Most Viewed in Sport
From our partners
Source: Read Full Article
The post Burgess rejects Dolphins to sign homecoming deal with South Sydney first appeared on europesportsnews.com.