British Grand Prix: A preview lap of the race track
We use your sign-up to provide content in ways you've consented to and to improve our understanding of you. This may include adverts from us and 3rd parties based on our understanding. You can unsubscribe at any time. More info
Fans are praising F1's simple life saving Halo device for stopping Roy Nissany's head being taken "clean off" in a horrific crash in F2. The Williams reserve driver made contact with Dennis Hauger on the run down to the Vale, pushing Hauger off the track.
The front wing smashed into the simple device and protected Nissany's head from taking the brunt of the impact. One Twitter user said: "No halo and that takes Nissany's head clean off. So fortunate to walk away from that."
Images showed Nissany being walked to the FIA medical car for assessment as marshals cleared up the debris. But, both drivers escaped unhurt after the crash and the race was restarted shortly later.
Recommended:
Sources: Mayer-Baumgardner title fight set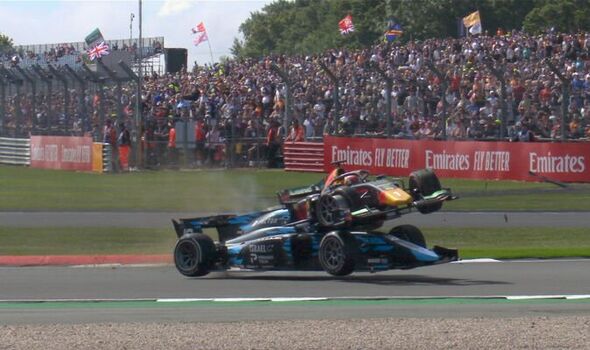 However, a top motorsport star took to Twitter to warn the incident proved that more needed to be done for safety in motorsport. British W Series star Abbie Eaton said track limits now needed to be better enforced and warned failure to act could lead to a fatality on track.
She said: "When will people learn? We need to use a safer way to control track limits. The halo has been one of the best safety systems to be introduced, let's move forward with track limit policing too. Don't wait until someone is killed."
However, fans and pundits all pointed the finger at Nissany for causing the accident. The DAMS star was seen weaving in an attempt to block cars behind through Stowe with the erratic driving eventually leading to contact.
DON'T MISS
Lewis Hamilton scolds British GP fans for treatment of Max Verstappen [INSIGHT]
Horner and Wolff form rare alliance after fans turn on Verstappen [ANALYSIS]
Max Verstappen responds to British GP crowd as Red Bull star booed [COMMENT]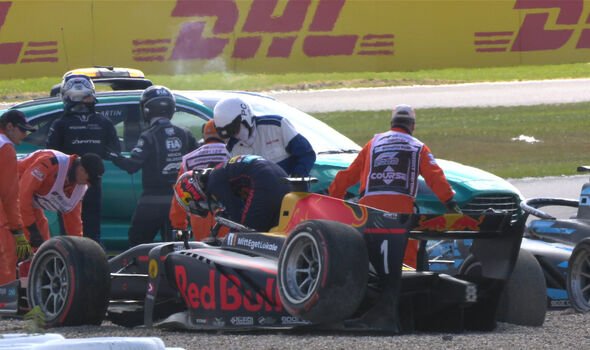 F1 pundit Will Buxton said: "Stupid sausage kerb creating a horrible accident in F2. The Halo saving the day once again. Sickening accident. Very glad to see [Nissany] walk away from that one.
"Nissany unquestionably the architect of it all with some very poor driving, Hauger an innocent passenger in that horrible accident. Halo proving its value once again, sausage kerbs proving their danger once again."
However, some fans were less than impressed with the Israeli's driving wth many social media users calling for him to face a race ban. Eventual podium finisher Theo Pourchaire also reacted to the incident in then post-race cool down room.
Talking about Nissany, the Frenchman said: "Always the same guy"
Source: Read Full Article
The post British GP horror crash as F2 driver saved from having 'head taken clean off' first appeared on europesportsnews.com.