Caretaker Wests Tigers coach Brett Kimmorley was headed to North Sydney Oval in search of players on Sunday.
The Tigers' record 72-6 loss to the Roosters the previous evening plumbed rare depths in a weekend full of them, the average winning margin of 32.25 across eight games the largest in the NRL era.
The 'Saturday slaughter', when the Roosters, Sharks and Eels won their round 23 games by a combined 152-18 scoreline, came the same day data showed blow-outs in 2022 had become rarer than ever since the introduction of the six-again rule.
Where tweaking the set restart rules – full penalties are blown instead of a six-again for infringements in an opposition's 40-metres – has helped curb runaway results to some extent, the gap between the NRL's best and worst is still as clear as Sunday's sunshine.
For the first time in 113 years of rugby league, six teams scored 40 points or more in a single round.
Of those, only the clash between also-rans Gold Coast and St George Illawarra saw a result in doubt beyond the 20-minute mark, while tense wins from Penrith and Canberra dragged the weekend's average margin in from the 40s.
Kimmorley wondered in his SCG press conference on Saturday night "whether some people have tapped out and are going somewhere else next year?"
Before making his way to North Sydney to watch feeder side the Magpies go round, Kimmorley dismissed that line of thinking, speaking instead to the biggest learning curve of his 10-game NRL coaching career to date.
"I don't think anyone gives up, I don't think there's anyone who doesn't care about their performance," Kimmorley told the Herald. "But as a player, if you get to this point of the year and you're trying to win a comp, it's the best time of your career.
"Most of the good sides are fine-tuning how they can win a premiership. That's the difference. If you look at the ladder, the top five or six sides have been there for the past five or six years.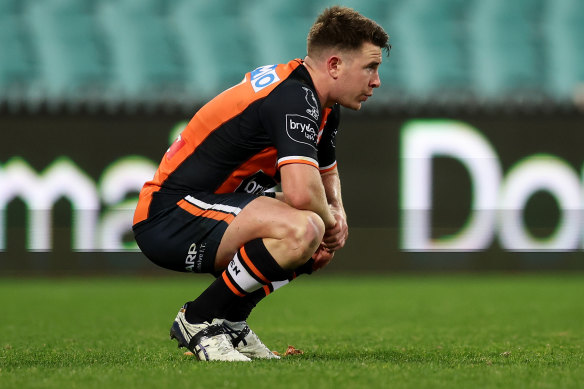 Jock Madden on his lonesome in the aftermath of the Roosters' carve up.Credit:Getty
"They're used to this time of year, they've got great rosters. They've been in the battle for the past few weeks, looking to improve and asking 'what more can we do to win a premiership?'
"When you're at the bottom of the ladder, you're not fine-tuning, you're not motivated by that same mindset. There's always going to be a massive difference of how they're feeling and their motivation.
"It's up to us to work out how to connect this team over the next two weeks, put aside what's happening with injuries and whatever else to find that motivation."
Kimmorley has already tried his hand at story-telling to drum up requisite desire in his side, revealing a 'disrespectful' narrative had been spun when Penrith rested half a dozen stars against the Tigers, who should've won a tense round 18 affair.
But with David Nofoaluma on loan to play finals football at the Storm, Luciano Leilua released early to do the same at North Queensland and Oliver Gildart turning out for the Roosters on Saturday, Kimmorley can count 10 top 25 players off the top of his that aren't available through injury and roster moves.
Salary cap manoeuvring is the reasonable justification for players being loaned out and moved on early. That the club has resolved there's little to play for in 2022 is an angle all too easy to take up, if you're looking for it.
The same could be argued of the Warriors after three COVID-impacted seasons and Manly too, yet to look like winning since the Pride jersey saga.
Suggestions of an NRL draft being introduced to close the gap between the haves and have nots disappear almost as soon as they're made, the RLPA's trenchant opposition a significant hurdle whether CBA discussions are in play or not.
The NRL has already pulled its on-field levers with the six-again rule change aimed at halting the runaway momentum of teams that until this weekend, we had seen less in 2022.
Phil Gould said it best in the Nine's post-game coverage after the Tigers were towelled up.
"I can't see why a professional footballer or a professional football team doesn't always have something to play for… You can't give up at this end of the season and allow teams to run roughshod over you like that."
As Kimmorley and a few other bottom eight coaches have found in the past 72 hours, it might be easier said than done.
Stream the NRL Premiership 2022 live and free on 9Now.
Most Viewed in Sport
From our partners
Source: Read Full Article
The post Blow-outs are back … and it's a matter of motivation, says Kimmorley first appeared on europesportsnews.com.