Banned from running the 400 metres, Namibian sprinter Christine Mboma stormed home to take silver in the women's 200 metres Olympic final.
Elaine Thompson-Herah won the 100-metre and 200-metre gold double, running 21.53 seconds to hold out Mboma and American Gabrielle Thomas in bronze.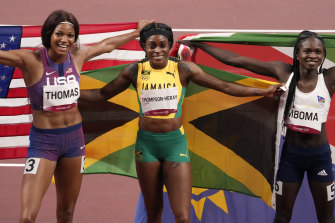 Elaine Thompson-Herah (centre) celebrates gold in the 200m alongside Gabrielle Thomas and Christine Mboma.Credit:AP
Mboma and her countrywoman Beatrice Masilingi, who finished sixth, are athletes of different sexual development.
Both are banned under IOC and World Athletics rules from competing in any event from 400 metres to 1500 metres because of their elevated testosterone levels. There is no ban on them competing at events shorter or longer than those two distances.
The two 18-year-olds had run four of the top five 400-metre times in the world this year until they were informed in July they had elevated testosterone and would be unable to continue to compete internationally in their best event.
World Athletics bans athletes with naturally occurring high testosterone and requires them to medically lower their testosterone levels, primarily by taking the contraceptive pill or else not be able to compete at distances from 400 metres to 1500 metres.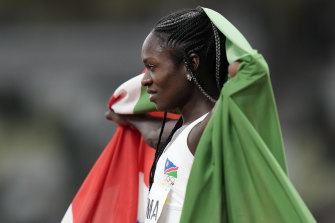 Mboma has been banned from the 400 metres.Credit:AP
In 2019, the Court of Arbitration for Sport upheld World Athletics' DSD rules after they were challenged by South African runner Caster Semenya.
In the men's sprint events, the world has been asking what comes next after Bolt? It is a question as unanswerable as who replaces the Beatles. The answer is no one entirely, but others do bits as well as the original.
One of those answers in athletics is that Bolt's successor on the track will not begin in the 100 metres but the 200.
The answer might be 17-year-old American Erriyon Knighton. Yes, 17.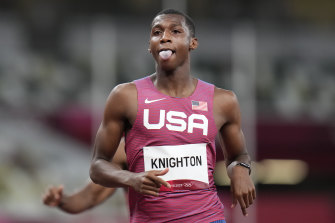 Erriyon Knighton is just 17 years old.Credit:AP
The kid from Florida, who has already broken two of Bolt's underage records, is now through to the Olympic final of the 200 metres.
He won his semi-final in 20.02 seconds, the sixth fastest time. Canada's bronze medallist Andre de Grasse was the quickest qualifier in 19.73 seconds.
On a night that became about DSD athletes with the women's 200 metres, it worth noting the result in the women's 800-metre final, the event won by DSD athlete Semenya at the last two Olympics. Semenya was banned from these Games at that event, and in Tokyo the 800 was run and won by 19-year-old American Athing Mu.
Mu won in in 1:55:21, in a race where six of the eight women all ran better than they had ever had before.
Never miss a medal or great sporting moment with our Olympic update emailed daily. Sign up for our Sport newsletter here.
Most Viewed in Sport
From our partners
Source: Read Full Article
The post Banned from 400m, Mboma takes silver in 200m, Thompson-Herah gold first appeared on europesportsnews.com.